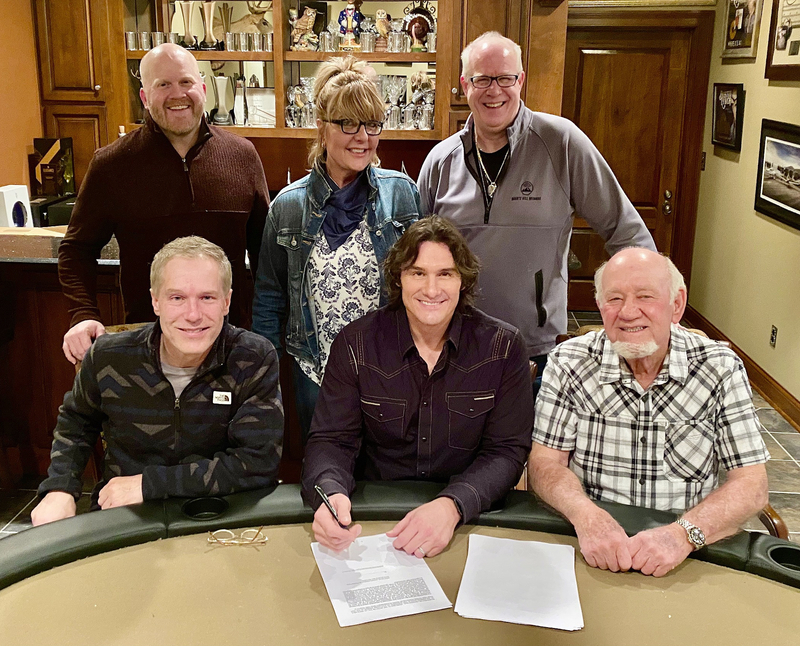 ACM & CMA-Winning Recording Artist Joe Nichols
 Signs with Quartz Hill Records
NASHVILLE, TN (April 5, 2021) – Today Quartz Hill Records, the newly-formed joint partnership with leading global music distribution company The Orchard, announced the signing of multi-platinum recording artist Joe Nichols to its label roster.
The move reunites the star with veteran label head Benny Brown with whom Nichols enjoyed two multi-week No. 1 singles, the RIAA Gold-certified hits "Yeah" and "Sunny and 75" from the critically-acclaimed album, Crickets.

"Joe has one of the purest and most timeless voices in country music. He's an incredible artist whose songs come from the heart. I couldn't be more excited to reunite with Joe and welcome him to the Quartz Hill Records family," said Benny Brown.
"I'm so excited to be a part of the Quartz Hill Records family. Benny Brown has always been an amazing person to me and my family and I can't wait to make many memories AND hits with the whole Quartz Hill team!" said Nichols.

One of country music's most-praised traditionalists, Nichols has six No. 1 hits and eight Top 10 singles to his credit. Those hits also include chart-toppers "Brokenheartsville," "Tequila Makes Her Clothes Fall Off" and "Gimme That Girl," and Top 10 smashes "The Impossible," "If Nobody Believed In You," "What's A Guy Gotta Do," "Size Matters" and "I'll Wait For You."

Nichols is a three-time Grammy nominee and the winner of the Academy of Country Music's "Top New Male Vocalist" award, the CMT "Breakthrough Video of the Year" award as well as the prestigious "Horizon Award" from the Country Music Association. Additional honors include awards from Billboard, Radio & Records and Music Row Magazine as well as a New York Times "Best-Albums-of-the-Year" nod. Nichols has earned multiple RIAA platinum and gold certifications for both his hit albums and singles and appeared on national media programs ranging from the ACM Presents: Superstar Duets on CBS to The Tonight Show, Jimmy Kimmel Live, The View, Entertainment Tonight and Austin City Limits.
Fans will get their first taste of new music from Nichols on April 23 with the worldwide digital release of his new single, "Home Run." At once autobiographical and universal, the song is an anthem about reconnecting and rebirth. "Home Run." Impacts country radio on April 26.
Nichols is currently in the studio recording his inaugural full-length album for Quartz Hill Records, reuniting with acclaimed music producers Mickey Jack Cones and Derek George, who helmed Nichols' much-lauded Crickets. Cones also produced Nichols' follow-up album, Never Gets Old, which was named one of All Music's "Favorite Country Albums of 2017" alongside projects by Willie Nelson, Margo Price and Chris Stapleton.
Nichols is booked by WME and managed by Brown Sellers Brown Management.
For the latest news on Nichols visit: www.JoeNichols.com and follow him on Facebook, Instagram and Twitter.
About Quartz Hill Records:
Quartz Hill Records, in joint partnership with The Orchard, is a full-service Country music label led by Benny Brown, Paul Brown and award-winning songwriter Jason Sellers. Joining this venture, The Orchard is a leading global music distributor and Artist & Label services company which specializes in empowering creators and businesses to grow and adapt in the dynamic global industry. Quartz Hill's roster includes triple threat singer/songwriter/ guitarist Ben Gallaher as well as up-and-coming country stylist Nate Barnes whose first single, "You Ain't Pretty" recently debuted as the #1 Most Added Song by a New Artist at Country Radio.
Pictured Top L to R: BSB Management's Shawn Pennington; Quartz Hill Records' April Rider and Paul Brown
Pictured Bottom L to R: Quartz Hill Records' Jason Sellers, Joe Nichols, Benny Brown